Barrie Thomas Trophy - IMAGE OF THE YEAR
The Annual 'Barrie Thomas Trophy' for 'Print of the Year' will be awarded at the end of year competition. The Prints that were awarded first place from each of the grades in the Colour and Mono categories will be re-scored for this prestigious honour.
2018 SUSIE THOMPSON Book Of Wishes
I was inspired to take a series of images from our set subject topic 'Fairytale' earlier in the year. It took a little bit of setting up just to get it right. Here's how I did it... Firstly I wanted to include some bokeh in the background, this was the trickiest and most time consuming part. I got an old styrofoam box and cut the base out, this left a solid skeleton that I then pin a sheet of opaque plastic to. I then arrange my fairy-lights for the background, pinning it to the styrofoam and blue-tacking the lights in place for the best composition. With that done, the rest of the arrangement was easy! I arranged this still life setting next to a large window that was streaming in the afternoon light to the left. I also angled some artificial light to the right of my subject for some extra pop of light. I held the book pages so it looked like the wind had taken them and arranged the dandelion seeds to achieve an 'L-shaped' composition. To process the image, I converted it to mono in the Nik Collection: Silver Efex Pro2 and also did some other minor adjustments with contrast, burnt around the edges and burnt the bokeh lights so they weren't too overpowering in the image. And voila - done :)
Nikon D7000 -
- Susie Thompson
AAPS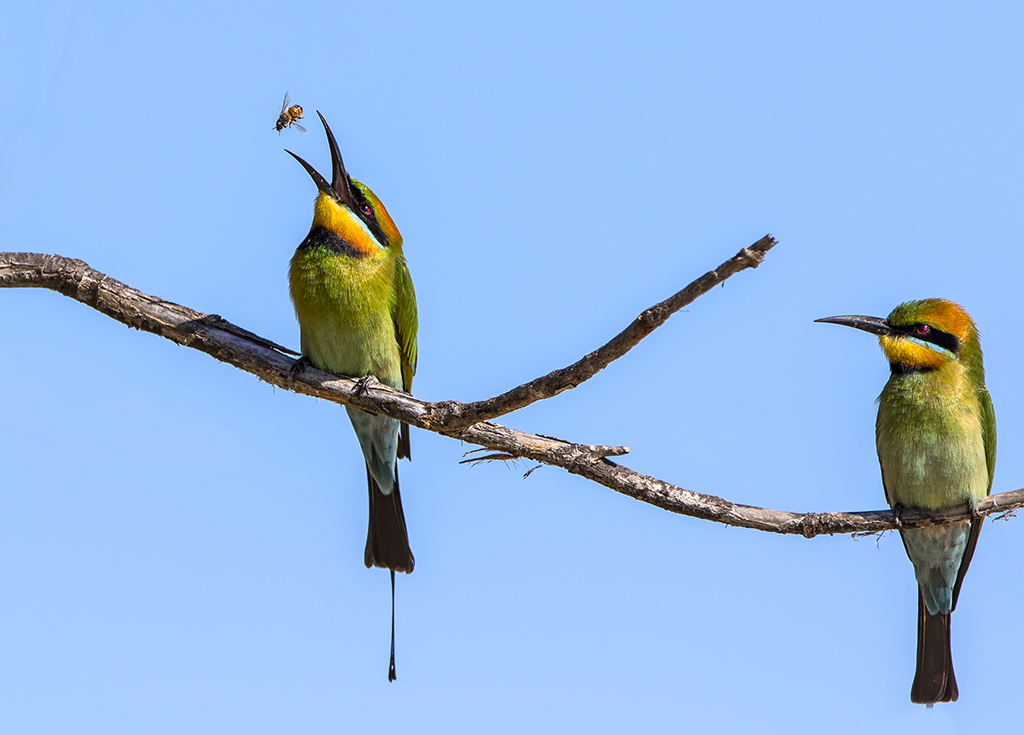 2017 JOHN ABBOTT Rainbow Bee Eaters
This image was taken in September 2016 at Point Vernon on the foreshore next to the Osprey Nest, otherwise known as the Pinnacles.
Camera: Canon 5D MKII
Aperture: f/5
Speed: 1/2000th sec
ISO: 125
Focal length: 500mm
Lens: Canon Prim f/4L
On a heavy tripod with gimble head
- John Abbott
EJ Abbott
​QPSA, MAPS, EFAIP, GPUCr2
2016 SUSIE THOMPSON Autumn Duo
I love taking Still Life images, however this year I haven't focussed on it as much and have found myself wandering down the beach and as you all know - I love my shells! LOL!! I'm always on the hunt for little things to pick up to photograph. I enjoy taking photos of the leaves from the Liquidambar tree (related to the Canadian Maple and this variety is native to Australia and New Zealand). I've created a few other Still Life images with these photogenic leaves. There's a tree just down the road from me - I'm sure if someone saw me they would be giving me a peculiar look as I carefully selected a few leaves off the footpath where they fell. They really are a beautiful tree to watch change colours with the Winter season approaching. I placed the two leaves on background of white cardboard and set my tripod up so I could directly shoot above the two leaves. I didn't take many photos of these leaves as I already had envisioned my final image I wanted to create. What a time saver!! I then opened them in Nik Collection: Silver Efex Pro2 and tweaked it a little and finished with Levels and Contrast in Photoshop Elements. I then applied a texture to the background and burnt around the edges a little. To add a creative twist I used the Nudge Tool and applied a curve to both of the stems and lengthened them so they would extend beyond the frame of the image.
Nikon D7000 - f18 - 1/50th sec - ISO 800 - no flash - tripod - 60mm Macro Lens.
- Susie Thompson
AAPS
2015 SANDRA BOLES The Great Goat Trek
This image of Kara Tribesmen in the Omo Valley was taken last year (2014) while in Ethiopia. We camped on the banks of the Omo River in tents for 2 nights along with some other keen photographers. This allowed us to get to the Kara Village before sunrise, where these people live in traditional conditions. Stick huts, dirt floors, animal skins and cloth for clothing etc. The only part that is not traditional is the carrying of AK 47 firearms. The goats and cattle are hearded towards the river for water each morning.
The countryside was very dry and the bulldust was prolific. To get an image from this point of view I had to race ahead of the animals and lay flat on my stomach in the bulldust. When they came too close, it was time to get up and run ahead again. We did this for about 30 minutes.
It was certainly worthwhile as I shot a few hundred images in beautiful morning light.
At the end of the shoot it was hard to tell what was the dirtiest, my amazing Nikon Df or me. It was an adrenalin pumping morning that I shall remember forever.
Settings were Nikon Df with my regular trusty travelling lens, the Nikon 28-300mm. This lens has seen quite a few trips around very rugged parts of the world and never lets me down. When given the chance, it is super sharp and is very versatile with a 300mm zoom. I was on aperture priority f7.1, shutter speed was 1/500sec and ISO 800. Focal length of this shot was 112mm.
- Sandra Boles
MAPS